Thu 14 Jun 2018
Taking inspiration from this year's Chelsea Flower Show, interior design website Houzz point out key trends for 2018 and suggest ways to incorporate them into your own garden.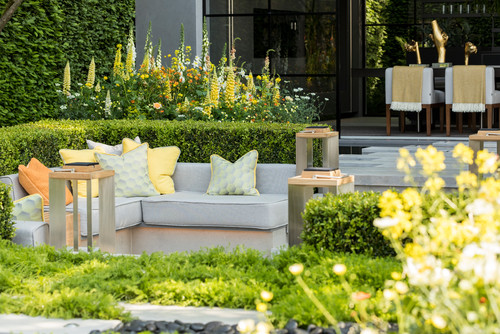 Bright, Bold & Beautiful
There was an abundance of yellow and orange this year, as seen in the LG Eco-City Garden, a sure-fire sign sunshine shades are making a comeback.
Get the look:
For an eye-catching display, try using tones from the yellow to orange range and plant en masse. Or why not try drifts of yellow as a recurring motif winding its way through a border for a softer look.
Go wild
The Welcome to Yorkshire Garden and the Tom Raffield installation promote the wilder side of gardening; taking a more natural approach with the use of nettles, long grass and a sprinkling of butter cups, giving the impression a garden has been there forever. 
Get the look: 
The use of soft drifts, wildflowers and nettles planted in soft arcs rather than straight lines, will help create a relaxed country feel. This type of garden is also extremely wildlife-friendly, so allow some grass in areas to grow longer and let nature do its thing.   
Photo by Amanda Patton Landscape & Garden Design
Designing for wellbeing
A real focus at this year's show was The RHS Feel Good Garden, by Matt Keightley, designed to highlight how gardens can help improve physical and mental health. The aim is to 'put the garden user at complete ease' with wide walkways cutting through generous planting and tiered, bench seating for a simple, uncluttered and calming space. 
Get the look:
To create a place for relaxation and contemplation, pay close attention to walkways and seating areas, consider a series of views and vistas and small nooks for seating to take a rest as you wander around the garden. 
You might also like:
Patios perfect for BBQs & alfresco dining
"Dear Sharon We got there in the end! Thank you so much for your hard work, think you exceeded your job description on this one! Hope you will call for a cuppa or a glass of wine to celebrate some time! You have been amazing, thank you."
Dr Glasgow & Mrs Glasgow - Happy Clients